STUDIO LINE WINDOWS
Specially designed for recording studios, music rooms, and other sound-critical environments, our Studio Line windows boast an Rw value of 59dB.
Our Studio Line range has been designed with one thing in mind: to stop sound dead. Featuring top of the line noise reduction glass and an engineered timber frame, these windows outperform most walls when it comes to soundproofing. And unlike many other products on the market, our studio windows can be installed both internally and externally to let light in and keep noise out.
The Studio Line is ideal for use in: recording and production studios, server rooms, interrogation rooms, meeting rooms, rehearsal spaces. And anywhere that sound quality and strict privacy are of paramount importance.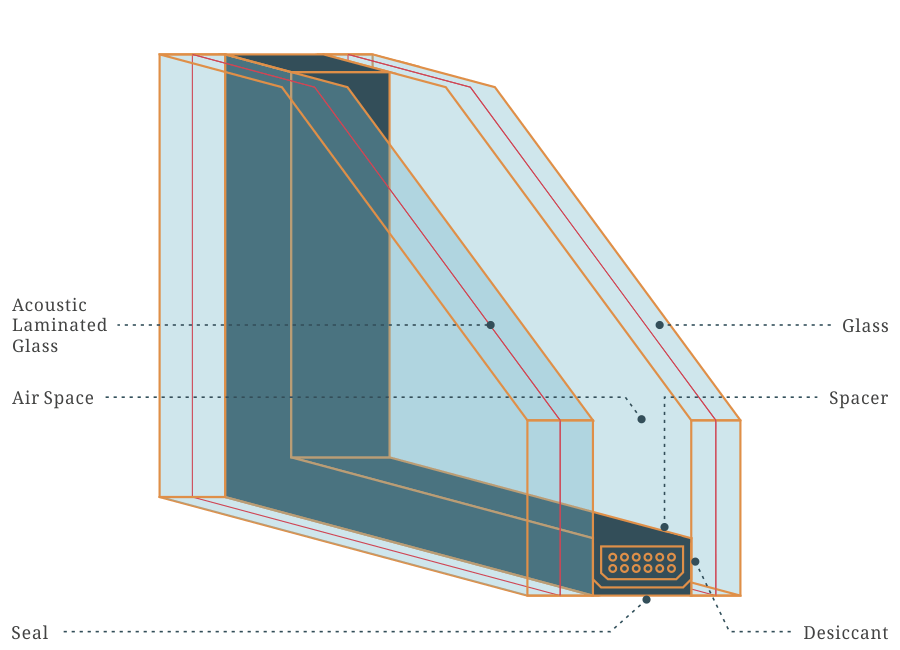 How Our Windows Work
Our windows are fitted with specialised noise reduction glazing. This glass is laminated in a PVB membrane, which has been specifically engineered to disrupt and absorb sound.
Each unit also features glazing of different thicknesses in order to work against the coincidence frequency (where noise is amplified instead of dissipated), and prevent sound passing through the window.
A high-performance Neoprene gasket is fitted all around the frame so that the glass does not touch the timber, preventing structural transference.
Expanding acoustic foams and sealants are used during installation to secure the frame itself in place, eliminating the opportunity for noise to flank around the unit.
Important: our windows have been tested and shown to reduce noise by up to 59dB, however, if the acoustic performance of the walls is lower than that of the window, this level of sound insulation is not possible.
THE STUDIO LINE RANGE
STUDIO ULTRA
up to 48dB
Double glazed unit.
Frame Thickness: 90-130mm

STUDIO ULTRA+
up to 59dB
Triple glazed unit.
Frame Thickness: 260mm

Options:
All products can be cut to any size and finished in any colour to suit the style of your space.
4° Angled glazing for optimal acoustic performance.
THERMALLY EFFICIENT
The U-value of all of our units is 0.8 W/m²K, complying with modern building standards, with the option of boosted thermal performance glazing if required.
STUDIO LINE WINDOWS COSTS
The ideal addition to both professional and amateur studio spaces – any areas where exceptional levels of noise reduction are necessary.
The prices displayed below do not include VAT and installation costs.
Located in the grounds of the Open Air Theatre, Regent's Park Rehearsal Studios features one of our Studio Line Ultra windows. Perfect for the space's many rehearsals, recordings and auditions.
DOWNLOAD THE STUDIO LINE BROCHURE
STUDIO LINE FOR RECORDING STUDIOS
Our soundproof Studio Line windows are highly specialised for noise-critical environments. If you require any further information on our products or processes, please speak to one of our acousticians who will be happy to help.