Soundproof Patio & Balcony Doors
Designed to stop noise intrusion, our soundproof patio and balcony doors will also keep your home safe and secure. Available in timber, the specialist doors boast reductions of up to 51dB.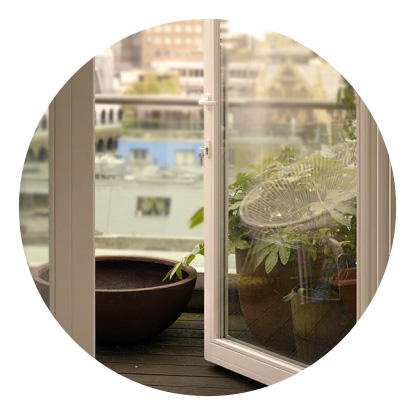 WHY THEY'RE SO GOOD
Noise will always travel the easiest path to your ear. Most of the time it will enter your home by squeezing through an air gap either in the building, or around the doors or windows. Otherwise, it will find the most susceptible material to pass through.
We prevent noise entering your home by ensuring there are no air gaps around the door, and by installing doors that have been acoustically treated to stop sound.
Acoustic Glazing
Our soundproof doors contain acoustic glazing, which has been coated in a noise-absorbing layer of PVB.
Acoustic Sealants
Used both during manufacturing and installation, acoustic sealant plugs any air gaps.
Multipoint Locking
A multipoint locking mechanism creates an air-tight seal around the door, preventing noise flanking.
Patio & Balcony Door Options
Letting light in and keeping noise out, choose from the following patio and balcony door options.
GLAZING OPTIONS
Choose toughened or safety glass for added security.
COMPLETE CUSTOMISATION
Whether it's an RAL paint finish, obscured glass, or detailing, our balcony and patio doors are all made to order.
CORNER OPENING
Open up the entire room to the outside world with a corner opening door.
THE FULL RANGE
SOUNDPROOF
40-43dB
Recommended For:
Moderate to high noise pollution.
SOUNDPROOF+
45-47dB
Recommended For:
High levels of noise pollution.
ULTRA
50-51dB + 51dB Triple Glazing
Recommended For:
Severe levels of noise.
THERMALLY EFFICIENT
It's not just sound that our front doors keep out, but the cold too. Our glazing has an Ug-value of up to 0.6 W/m²K, and timber doors a value of up to 0.7 W/m²K, meaning that all of our soundproof balcony and patio doors are A+ rated.
OUR PROCESS
All of our soundproof patio & balcony doors are made to order and, as you know, perfection takes time. Before manufacturing begins, we need to survey your property, which will be scheduled in the first couple of weeks. From the time the order is placed until installation generally takes between 12-14 weeks.